Sizing a Pet Loader
---
How the Pet Loader Works
1) Open Pet Loader to desired length (unit opens/closes with accordian-fold mechanism).
2) Place the top platform on the rear of the vehicle, car/van door threshold, folded-down rear seat (any flat surface capable of supporting your dog's weight) and the bottom platform flat on the ground.
3) Set the angle of ascent/descent desired and secure the turn knobs a quarter turn. Do not over tighten the knob. Once knob is secured your dog can safely use the Pet Loader.
---
How High
Measure the height you need to reach.
With this information, you can select either the 3, 4 or 5 step model.
---
Height Range
Each Pet Loader model has a range of heights it can reach.
For example, these are the ranges for a Pet Loader 4 Step.
NOTE: Diagrams illustrate dimensions (step depth & rise) at low - mid - high extensions for each size. Your Pet Loader can actually be set any height which falls between low/high guidelines for each size.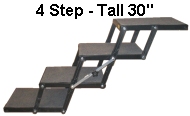 Note that as the height adjustment increases, so does the rise of each step. Below are detailed dimensions for the 3 Step, 4 Step and 5 Step.
---
Pet Loader 3 Step Dimension Ranges - 16" to 20" High
---
Pet Loader 4 Step Dimension Ranges - 22" to 30" High
---
Pet Loader 5 Step Dimension Ranges- 28" to 40" High
---
Widths
There are two step widths available for the Pet Loader; 16" and 18" wide plastic steps. When choosing your Pet Loader size and width, be sure to consider where you will be using them and the agility level of your dog.
When using a Pet Loader for cars and sedans, take a moment to check the available space when your door is open.
---