Custom Built Dog and Cat Ramps or Steps
We have had many requests for custom ramps and steps built to special dimensions. Some are for seriously impaired or blind pets. Others are for unique settings; ramps and steps for pet doors, ramps for dog wheelchairs, ramps to fit in a corner or extend up to a high window. Shown below are just a few examples of the items we have designed and constructed for our customers. If you have a special requirement, please call or email us - Contact Us. Pictures or drawings and exact dimensions will be required before we can quote your special project! (Please note that we cannot accept returns on custom built items.)
Visit us on Facebook
for more custom pictures from our customers, additional information and some fun stuff.
---
Pet Bed Ramp with Optional Side Rails
New!! Optional 4" High (One Slat) and 8" High (Two Slats - as shown) safety rails for our indoor dog ramps and cat ramps! Contact Us via email or phone for pricing.
---
Custom Cedar Pet Steps for Doggy Door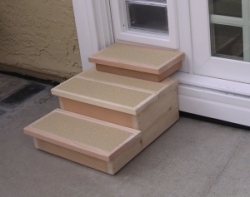 From the outside, this dog door was 8" high from the patio, with a 3" deep transom/setback. These custom steps were made with weather resistant Cedar; the bottom steps are 13" wide, and the top one a slightly smaller 11" to ensure a nice fit.
---
Indoor & Outdoor Doggy Door Wedge Ramps
Custom Indoor and Outdoor Wedge Ramps for Doggy Door. When customer was at work, this lucky dog had a comfy indoor pen with doggy door access to fenced in yard.
---
Short Ramp - Easy Slope
An 8" high carpeted wedge style indoor dog ramp (in this case used for 'sunken living room'). Nicely finished to match customer decor. We called it the "shorty".
---
Dog Wheel Chair Ramp - Easy Slope
Wedge style dog ramp 8" high, 26 1/2" wide, can be used for a dog wheelchair or as an extra wide ramp to go up one step. This one we left unfinished as the customer wanted to stain it to match their decor.
---
10 Foot Long Pet Ramp
30" high, 16" wide and 119" long Easy Slope ramp with a sealed pine finish. Someone in the shop used the New England vernacular calling it "Wicked Long!". The ramp section had to be shipped as an Oversize 3 package.
---
32" Tall Cat Ramp for Bed
Custom Easy Slope bed ramp for a senior cat needing to reach a 36" high bed. This cat ramp is 16" wide, 32" tall with a 91" long ramp finished with espresso stain.
---
5 Step Cedar Dog Step
The doggy door was a tad too high for their dog .. like 36 inches too high! These custom cedar dog stairs are 32" high and the dog now has easy access to the doggy door inside and out.
---
Wide Custom Cedar Dog Step
22" by 22" by 6" high, extra wide Cedar Dog Step. It is used to get up a 12" high wall.
---