Customer Notes and Pictures
NEW! Now you can find us on Facebook! Become a fan and enjoy even more of our super cute customer pics.
Below are some of our customer's letters and pictures about our pet ramps and accessories. We would love to include pictures of your pets using their favorite Pet Classics products! Please don't hesitate to tell us about your Pet Classics product experiences. If you have any special requirements, please contact us and be sure to look at our Custom Ramps and Steps.
---
The Gang from Pensacola
I just opened and "assembled" the new dog ramp and pedestal from your company. Both your product and your packaging is superb! What a class act, particularly compared to a different one that I recently returned to another vendor. The workmanship is just beautiful! My dachshunds are used to a ramp, so they won't have any hesitation to join me on the couch. They'll even use it when I'm not around! I'm so glad to have found you and your product. The ramp really does look like a piece of furniture! Thanks so much
Pat and her doxies Ginger, Edgar, Katie, Sophie, Boomer, and Coco
---
Wonderful Cat Ramp for 18-year old "One O'Clock"
Dear Pet Classics,
I am writing to tell you how pleased I am, and how happy my cat One O'Clock is with the pet ramp I bought from you. I looked at dozens of ramps before I chose yours, and the search was worth it. The ramp you made is sturdy and attractive, and my cat loves it! It took about five minutes to train her to use it, and now she is prancing up and down off the bed. Our 18-year-old cat One O'Clock has arthritis, and so we tried to stop her jumping up and down, but she was not about to stop jumping to where she wanted to be. From the way she has taken to her ramp, I think she is happy to have an easier way to reach the bed. Your service during the sale was excellent, and I appreciated having the tracking number so I could know when the package would come. Thanks so much for the good work you do! I have attached a picture of One on her new pet ramp. I think she looks happy, don't you?
Heather M., faithful servant of One O'Clock
---
Happy Cat in AZ
A note of thanks. The ramp came last week right on schedule and I couldn't be happier. It's a nice looking, well made piece of furniture that's obviously built to last. I have a six year old blind cat who has always used a small, round, discount store type of carpeted cat house to get on and off my bed (where she basically lives 23 hours a day). I think it's only a foot high and a foot in diameter. I've tried to get her to use other things, but never had any luck. Her sight has really deteriorated over the past year, to the point where she needed my help to find her "step" in all but the brightest daylight. I really had my doubts that she would use a ramp if I bought one, but I thought your suggestions made sense to try. I used a catnip spray on the ramp and got her to play on and around it. I left it flat on the floor for about 24 hours before setting it up at the bed. To my amazement I only needed to coax her up and down a half dozen times or so until she got the idea. Now she uses it comfortably. I'm glad I didn't go for some of the cheaper ramps that are available. I think the sturdiness of your ramp gave her the confidence to quickly adapt to it. I can tell it's been a real stress-reliever for her. For me, too!
Thank you for an excellent product and for your excellent service
J.H. AZ
---
Dachshund Dog Bed Ramp in California
We all love the dog ramp! Rupert, the wirehair dachshund, could not get up on the bed by himself, but now is happily playing with his toy on the bed thanks to your ramp. And I no longer have to worry about him injuring himself jumping off the bed. It has made all of our lives much easier and safer.
Merci, gracias, thanks. - CA
---
Cat Ramp Helps with Horner's Syndrome
About a year ago my perfect little British-short-haired-odd-eyed-manx was diagnosed with Horner's Syndrome. This middle ear infection robbed him of his hearing and his balance. My little jumper could no longer get up on the bed at night to sleep on the pillow next to me. He would cry at the side of the bed every couple of hours or so to come back up. Needless to say, my sleep was less than peaceful on most nights.
I researched bed ramps for hours on the internet, and - by far -- the best looking ramp was from Pet Classics. It also seemed sturdy and, very importantly, had the easiest climb for my handicapped little guy. Others seemed too steep.
It took only a few times of placing my little guy on your ramp, and coaxing him by brushing his head (which he loves), to get him to climb up to the top of the bed. The very next morning I opened my eyes, and he was staring at me from the top of the ramp! He had climbed up and down it all night long and I had slept straight through it all. It truly felt like a miracle. And he seemed so pleased with himself! I felt like crying tears of joy.
Thank you so very much! I would never have believed that a cat ramp, which is practically hidden between the bed and the wall, could make such a difference in BOTH of our lives! It is so wonderful and I only regret that I didn't order one earlier.
---
Magic Ramps For 4 Cats and a Teacup Maltese Dog - Florida
I want to thank you for your quick and friendly service. I am so pleased to do business with you. I also believe that the best advertisement is by way of mouth and I am not bashful to speak up! I will always remember you and your magic ramps, and will gladly recommend Pet Classics
Just for you to know, I have a teacup Maltese and 4 cats that use the ramp all day and night, and the ramp is still in excellent condition and not one chip on the wood or paint.
Thank you ---- Woof!!! (A.R. sent this note when ordering a second ramp)
---
Chihuahua, Meagan Fajita, Texas Dog Ramp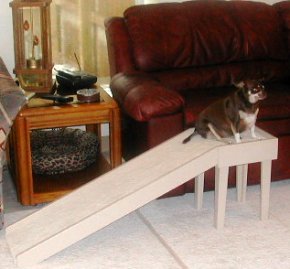 Wanted to send you a picture of my overweight Chihuahua, Meagan Fajita on the the new dog ramp from ya'll. She loves to use the ramp to go up and down from the new leather sofa. It's a beautiful ramp and a great addition to the house.
Meagan seems to have overall more confidence now that she's using the ramp. She also likes to sit on the platform. So here's a picture of her on the Pet Classics Dog Ramp.
Thanks for everything. M.G.
---
Cat Perch in NJ
I wanted to let you know that we just received the carpeted cat window perch and our kitten loves it! He sniffed it out a bit at first, but today took it for a test nap on the window sill in our family room and spent a few hours snoozing away happily.
Your perch is sturdy, was very easy to install and doesn't appear to leave any marks on the walls when you remove it. This is a life-saver for us since our kitten is addicted to window sills during the warmer months. Since the Autumn has rolled around, he's clearly misses his "throne" and this is the perfect solution. We are getting another kitten soon and as soon as she grows sufficiently, we'll be ordering another one.
Your product is high quality, well made and your customer service has been impeccable. Thanks again and keep up the excellent work!
LH in NJ
---
Sidney Loves The Dog Ramp - Connecticut
This is Sidney, a Golden Retriever, who was one of the first to test the Pet Classics 16" wide dog ramps. It was unbelievable how much of a ham she was when it came time to take some pictures. The birth of a star! But it was so cute to see how she also used our dog ramp for a pillow.
From all of us at Pet Classics, thanks Sidney, you are the best!
---
Teva (the dachshund) On The Ramp - New York, NY
My Dachshund puppy, Teva, was beside herself when I put it up! A whole new world opened up to her! She spent the next few minutes literally just running up and down the new dog ramp. Now she drags huge toys up it!
I ordered a (other) ramp from a different company, but she wouldn't even go near it. It was way too narrow and scary for her
---
Dog Steps To The Window - Washington
I have received the dog steps... they came yesterday! Thank you so much for your product. I searched high and low for steps, yours are the best. I have a window seat that my dog enjoys sitting in, but she now has back problems. The steps are wonderful... we are working on the training to teach her to use the steps verses jumping up into the window seat.
Thank you again for a great product and super service!
---
Steps for a Lab and Boxer - PA
Hello! I did recieve the steps and both of my dogs love them! I got them for my 12 yr old lab and he uses them... but not as much as my 10 yr old boxer to my surprise. My boxer thinks they are a new toy!
They both took to them right away. They are Very sturdy for large dogs - both of my dogs are close to 100lbs and "tipping" was one of my biggest concerns. The depth and height of each step is also great, again perfect for larger dogs. They are great - we love them! Thank you for a great product! and for the great customer service. (I will highly recommend you to my friends/family)
---
Arthritic Cat Gets Back in Bed With the Pet Classics Ramp - Washington
With my previous order, the cat ramp took about 10 seconds to setup and only a very short period of time for my arthritic cat to enjoy its benefits to get back up onto my bed and into his cat tray, which sits at the foot of the bed. My other cat, who is still in her prime, now runs up the ramp instead of jumping up onto the bed. She also uses it as a means for a quick getaway (she's feral- like).
If you're looking for positive customer feedback, this is it. I am so satisfied with my initial purchase that I've decided to get a cat ramp for the couch too.
Pet Classics makes a great product so keep up the fantastic work!
---
Five Dogs On The Ramp! - Washington
We opened the dog ramp and it is in perfect condition!!!
What a thing of beauty, all assembled! We now have five dogs; 9-year old Lab with Addison's Disease, 9-year old very fat beagle, 1 year old pug, 6-month old doxie-chi, and a 12-week old teacup poodle. So it will be getting lots of use!
We put it together just to see what it looked like, and our pug immediately ran up and down the ramp four times. The others were all howling and barking - they knew it was something for them, but it will take a little more time to get used to it as per your instructions. Thanks for all your diligence and care.
---
Border Collie in Hawaii
Thanks much for having sent the long pet ramp to my aunt in Hawaii! She received both pieces in perfect order, and early to boot! She has it next to the bed and her smaller dog (she has two) was more venturesome in trying it out. Her border collie was a bit apprehensive. But, she's encouraging it with treats, and she's very happy about being able to get back into her bed. My aunt is confident that she will be able to get Samantha to use the ramp and is really pleased with it, so thanks to you again!
---
Yorkie's ramp doubles for bed and window lookout - Texas
Hi! We did get the ramp on the Thursday that you predicted. It took my little Yorkie, only about 30 minutes or less to figure out that she could not get up on the bed the usual way, and could get up the ramp. A little of her favorite fat-free turkey helped show her the way. She seems to love it and is up and down at her discretion all day and SHE sleeps better now on the bed, knowing that she can get down whenever she wants to. She loves laying on the flat part at the top of the ramp to look out of the window. It has made both our lives much better. Thanks so much for all your help.
---
Custom Cedar Pet Step for Dog Door - CA
Hello, the steps arrived on Saturday.. We absolutely LOVE THEM! What fantastic workmanship! Thank you again, our dog loves them as well, she has already begun using them :-) Here ia a picture of them for you, so you can see how great they look and how well the fit right up against the dog door.. GREAT JOB!!!!!!
---
Aluminum Ramp for Dog Champ
Thanks again for the great service we received from your company. The new aluminum ramp is more narrow, but Jake is able to navigate up and down ok. Here is a picture of his win in Scottsdale, AZ. Enjoy your day and thanks again!!
---
"No time to talk" Boat Dog Ramp in MO
Got it on Friday and used it all weekend. Our dogs love it!
---
Shelby the Spitz's new Ramp
I purchased the Tall 12 inch Easy Slope Ramp for our 11 yr old Spitz Mix "Furry Child" Shelby, who has recently started to experience some arthritis in her back. She loves to jump up on our bed but was beginning to have some problems jumping that high.
I unboxed the ramp, put it together and set it up next to the bed. With a treat waiting at the top she quickly walked right up and got on the bed. Better still she easily walked right down on her own when she was ready to get down. We were lucky, she took right to it. Looks like it was well worth the investment. Now we don't have to worry about her injuring herself jumping onto the bed or down on the hardwood floor.
Thanks!!!!!! Gayle
---
Folding Dog Stairs did the Trick
I just received the stairs about 15 minutes ago and they work great. It was a pleasant surprise that my dog walked up them into my SUV and back down without any coaxing or treats. If you knew what I've been through over the past year using different methods to get a 125 pound, tall, lazy dog with hip problems, arthritis, partially torn ACL among other health issues into the car, you'd understand.
I purchased a plastic pet ramp (too unstable and narrow), a handicap wheelchair ramp (too unstable and steep), and bags of pine shavings (not transportable). I've also tried lifting him (too heavy), picking up his front legs and heaving his back legs up with all my strength (still too heavy, plus I'm not that strong), teaching him to jump in without hurting himself (impossible). At this point, he is so afraid to get into the car with me that as soon as I bring him around to the back, he lays down. He had a bad experience when he was younger and as a result he fears metal equipment that makes any noise or movement. That was basically the reason I thought I'd try the cedar steps you have. I'm glad you persuaded me to try the portable stairs first.
They are as solid and sturdy as you said they'd be. Thank you so much for getting them to me so quickly and being so nice about it. Your customer service is wonderful. :)
Dee
---
Folding Dog Stairs for a Shepherd
Hi Folks,
Just wanted to let you know that the metal steps we ordered are super. They have really helped our 13 year old shepherd get into the car without further damaging her neck. We recommended them to a friend too.
Thanks, this is a great product! Sincerely, B E - Iowa
---
Custom 28" high Bed Ramp for dogs
Hi Jan! I just wanted to let you know that the ramp arrived yesterday, and it was easy to get up. The girls are already using it! It took some treats and encouragement, but Speckles got up there all by herself! You guys have been wonderful, and I really appreciate it. I will recommend you to everyone. I work in the pet industry, so I am in contact with allot of people that have the same issues that I do. It's unusual to find people that are caring, and so helpful.
Thanks again for everything! Bridget-
---
4 Step Carpeted Pet Stairs for 3 Dogs
LOVE what I ordered from you
Just a quick note to THANK YOU for your great product. I ordered the carpeted pet steps (the four step) and it is sooo wonderful!
My 3 dogs now can get up and down off of our high bed and they don't wake up my hubby and I all night long, needing help up and down anymore. The steps are well made, great quality and we are very happy! I will keep you in mind if we ever need anything else and will tell all my dog owner friends about these great steps!
Thanks, J W
---
Custom Dog Ramp for a bed - Vermont
Hi, I got the lovely ramp yesterday when I got home. I set it up and today Ink is actually going up and down with relative ease. Thanks so much for getting it out to me so fast. It's really changed our lives already.
Take care, J
---
Bed Dog Steps for a Beagle - Virginia
We received our order on tuesday 4-06-04. We are very pleased with the steps and they are a god-send for our 5 year old beagle, Brandi. She had surgery on her hind leg and is unable to jump. She was up and down them as soon as they came out of the box!
Once again thank you for all your help.
---
Golden Retriever Loves the Carpeted Steps - Hew Hampshire
The Pet Stairs arrived earlier this week and our golden retriever, Shadow (our "little girl"), got the "hang of it" in less than 24 hours! It's a great product, well-built but not too heavy for me to move around for vacuuming. Shadow likes it because it's stable and doesn't wobble when she goes up and down.
Thanks for your help with this! N R - NH
---
Cedar Pup Stairs for a Mobile Groomer
This is my second set of stairs. I'm very pleased with the firstset and my dogs just hop up and down and now I don't have to worry about them hurting themselves getting on or off my bed. We like them so much we are putting this set in our mobile grooming RV. We are hoping our largergroom dogs will use them to save our shoulders and back.
Thanks. S. S.
---
Carpeted Pet Steps for the Dogs and Cat
They both arrived on Thursday and were waiting for me when I got home that night.
They are FABULOUS. Exactly what the doctor ordered. The color is perfect. Will not show the dirt and if a little turns up, they will be easy to spot clean. I am so relieved to have them and both my little ones are already using them. Even my cat Sofie.
I will be in touch in the not too distant future to order two of the single steps to put in front of a chair and in my spare room where I have a small fold out sofa. They are beautifully constructed. Sturdy with no worries of tipping over. Just great.
Joanna - California
---
Cedar Steps just in time to get to the Vet
Received the stairs today, just in time to take my Lab to the vet. They were just what I was looking for. Thanks!
LG - Massachusetts
---
Cat Ramp does the trick
Just wanted to thank you for your help. The 12 year old is loving it. The bed she was jumping on to is actually 10 inches higher then the top of the ramp, but the ramp did what we had hoped. Our baby manages to go up and down very easily and does it often. After setting it up we put it at the base of the bed and my fiance put her cat on the top "shelf" and she naturally stepped/jumped to the top of the bed. All it took was taking her off the bed and putting her back on top - pushing her to walk down AND that was it! She was hooked and so were we. We looked at many store items and I thought possibly I could build something. This was well worth the dollars and it looks great at the foot of the bed (a queen size). You have an excellent product.
M.D. - California
---
Folding Stairs perfect for the Labs and the new 4Runner
Just wanted to let you know that the folding steps arrived on Saturday -- thanks so much for the excellent service and quick turn-around! We have 2 other ramps we've used with our other trucks/SUVs and the steps are a really nice solution for our new 4Runner. We had a practice session today with our Labs and they had no problem quickly adjusting to the large step platforms. So we're all ready for our holiday travels tomorrow. Have a Happy Thanksgiving!
Cindi - California
---